What is rising damp and why does it happen?
As preservation experts, we're often asked: "What is rising damp?" Essentially, rising damp is exactly as it sounds – moisture rising from the ground, seeping up your masonry and brickwork. If your property doesn't have a damp proof course, or does, but it's very old, bypassed by 'bridging', your building could be more susceptible to this unsightly and damaging problem.
Many common building materials like stone, brick and lime mortar draw up water through capillary action – think of the way a sponge works, and you'll soon get the idea.
The height to which damp rises depends on many factors, including the thickness of the wall, its structure and the rate water evaporates from the surface. This is why a height of around 1 to 1.5M is often quoted. Don't be misled though – it can rise much higher in certain situations.
During the process of evaporation, residues from the salts in the moisture can be left as a visual indicator of rising damp, both inside and outside; you may also notice wallpaper or plaster peeling away from the wall, staining, rot and rusty nails in your skirting boards and you may be able to feel the dampness if you touch the affected area, though it won't be wet to the touch. Some salts from the ground are known as 'hygroscopic' and these tend to remain invisible to the eye – though they do cause damp staining.
If your damp problem is above the ground floor accommodation, this is not rising damp, so you may wish to refer to our information on penetrating damp and condensation.
Is your house traditionally built or a listed building? Why not include a visit to our Historic Building Preservation pages for specific information?
Rising damp causes all kinds of problems that make it a menace to live with. As moisture levels rise you'll notice aesthetic issues, which while initially superficial, can end up being a much bigger problem.
While spoiled wallpaper and staining can soon be rectified with a strip and re-cover, once that damp is in your plasterwork, the costs of repair rapidly escalate.
And rising damp doesn't stop making its presence felt there either – as it penetrates your woodwork, wet rot and dry rot can start to appear. This can cause cosmetic problems with skirting boards, or even structural concerns if it cause dry rot or wet rot in  structurally significant timbers, such as  floor joists and roof beams.
Properties around the Yorkshire area can become susceptible to the wet UK conditions due to a lack of damp proof course, or an old damp course that's seen better days.
Different construction methods and different materials need special attention – there really is no one-size-fits-all approach where damp in buildings is concerned.
When rising damp is diagnosed there are a number of treatment options we can recommend, all of which are agreement board approved and chosen specifically for each building.
The Agreemént Board is the main testing laboratory for building materials. We get suppliers offering us new damp proofing materials every month, but we never use products which haven't been independently tested and verified by BBA.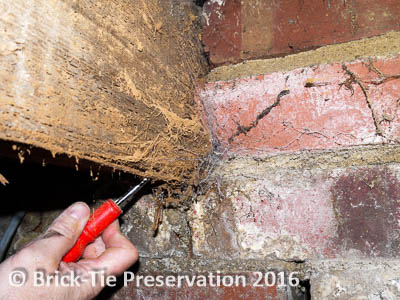 The DRYZONE damp proofing system is the mainstay of our methods and has a high active water repellent content (unlike many low strength formulations we've come across); it's consistent and suitable for damp proofing brick or stone houses, commercial or domestic premises. Listed and period properties are our speciality and we've damp-proofed many of them. The graph shows how important active content is for successful chemical damp-proof course materials. Only systems which have been independently tested and approved are used by Brick-Tie Preservation.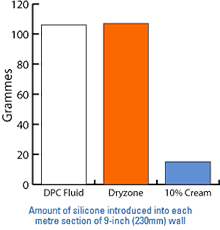 DryRod Chemical Damp Proofing
Safeguard Chemical's remarkable DryRod method is also available, for those especially challenging damp situations. We recently used this method for a listed building in Wetherby near Leeds: it's even more effective than DryZone, yet is reversible and the solid-state delivery system means there's no use of creams and it is completely water free – adding no water at all during the diffusion phase. We've also specified this method for use where previous chemical DPC installation carried out in the past by other suppliers have been ineffective, or only partially effective. It's ideal for use in historic and listed buildings.
The water-free DryRod product offers improved penetration of new water-repellent properties, uninfected by any residual water repellent left over by previously injected chemicals. Thus penetration adds additional rising damp resistance, augmenting any latent effects of existing chemicals in the wall and not being impeded by them – it's quite remarkable!
DryRod has enabled some clients to minimise internal destruction of plaster, where hygroscopic moisture contents are low, because it requires no support from the plastering system – being so effective in combating rising damp.
This is an approach which has value in a minority of cases. However, if it saves historic fabric from land-fill then the extra effort is well worth it.
Safeguard's professional grade Damp Check Rods use similar technology and are now our 'go-to' product for use on listed buildings and previously treated structures.
Non-Chemical Damp Proofing Methods
Of course, chemical DPC work is not always the answer. In these cases, we offer a range of alternatives including membrane protection with either lime or cement based plastering options, and independent and insulated dry-lining and/or external drainage options.
In many cases several options for treatment may be outlined and a decision reached with you, on the balance of your needs, as well as those of the building. In listed buildings for example, we'll often suggest a dry lining option and traditional repairs, designed to manage the problem rather than fix it directly.
No matter what the cause of the rising damp, we will always have a range of suitable options for you to consider and will help you decide on the best way forward.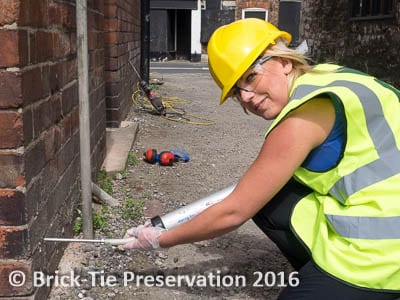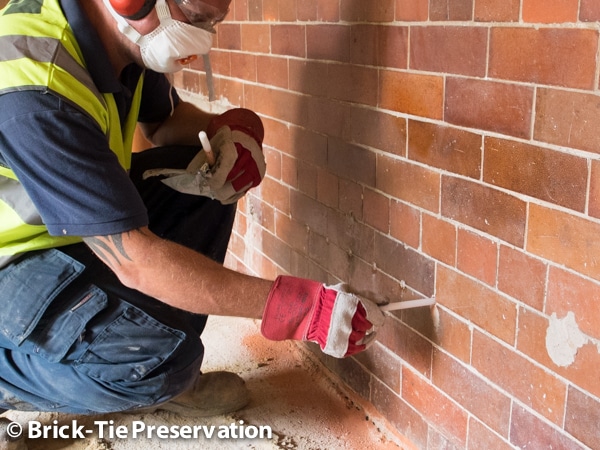 Our Damp Proofing Installation Team
Of course, even the best damp proofing systems can fail due to poor application, and here's how we avoid this…
Our damp proofing technicians each hold the Property Care Association Qualified Technician certificate PCAQT, having passed the examinations under the supervision of the Property Care Association (BWPDA).
Many also hold The City and Guilds NVQ Level 2 in damp proofing and timber treatment – making them the best qualified damp proofing specialists in Yorkshire! This means they know exactly how your new Dry Zone or DryRod DPC damp proof system should be installed, and can be relied on to do the job properly.  They have years of experience and always take great care to make sure things are done exactly right.
As Investors In People we strive for constant individual improvement for all our team, so learning never stops in Brick-Tie.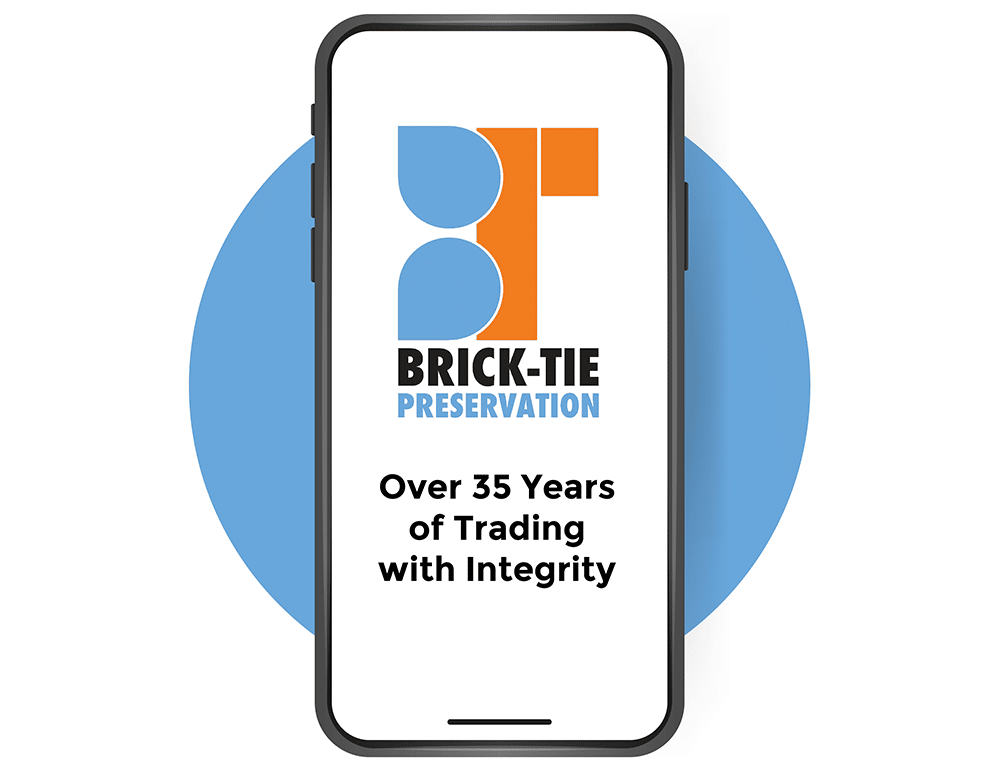 Need advice or want to book a survey?
If you have a question on our building preservation services, need advice on a structural issue or wish to book a survey, call our friendly team free on
Leeds 265 2752
,
York 566577
or
Sheffield 224 5121
or email us via our
contact
page and we'll be happy to help.
Specialist Re-plastering Services
Remember that rising damp almost always contaminates plaster with salts from the ground: even if they're not visible, they're probably there (we can test this).
Specialist re-plastering is often needed to get the full effect of any damp-course installation. If this isn't done, there's still a good chance damp will remain, due to these rising damp derived salts in the wall, absorbing airborne moisture.
We're proud of our trowel skills and can complete your re-plastering neatly and professionally. A range of methods are used, from super-dense damp-proof cement renders, to dry-lined membrane systems – which are fast and reliable, just like our team.
Lining systems have the advantage of being quick drying, allowing decoration to proceed soon after application. They are also reversible, so they appeal to conservationists and listed building owners.
Traditional lime plasters and modern lime derived renovating plasters are also used when required.
Guarantee Protection Cover
All of our damp proofing work is guaranteed for 10 years, and Guarantee Protection Insurance covers you into the future… although we've now been successfully trading for 30 years and have proved our integrity to thousands of clients, so we're confident you won't need to use it. Our qualified damp proofing specialist surveyors cover Leeds, Wakefield, Sheffield, Harrogate, Bradford, York, Tadcaster, Pontefract and Selby too. Call us now on
Leeds 265 2752
,
York 566577
or
Sheffield 224 5121
or email us via our
contact
page.
Below are some articles for those who would like more information about Rising damp.
Damp. The (very) basic guide. part 3
Now that you have read part 1 and part 2, we can move onto more problematical damp.  This is rising damp. Despite what some daft journalists and conservationists say, it's very common. However, it is also often misdiagnosed and I'd say that quite a few expensive damp courses are installed when they needn't be … Continue reading
Rising damp in Yorkshire's post war housing is often caused by construction defects and… rationing!
Quite a statement and one I may get taken up on. However, I find that in the majority of cases, where these relatively new houses have rising damp, there's nothing wrong with the original DPC. In saying that I do sometimes recommend installation of a new one, depending on the circumstance. Here's why.  Bridging built … Continue reading