Damp Surveys – Timber Surveys; What are they?
Damp surveys? Timber reports? These terms come up every day, all around Yorkshire. Damp surveys and timber surveys usually arise when people are either buying or selling a house, or when there's just a need to check-out a stain, peeling paper or a damp smell … and there doesn't have to be a damp problem for timber or damp surveys to be asked for.
The problem is that most of us don't buy and sell houses every day, so when damp surveys or damp reports are asked for due to a pre-purchase, people don't know where to turn and that leaves them open to stress, confusion and sometimes, poor service. Estate agents can help with advice of course, but remember that they are working for the vendor – not for the buyer.
Why do I need a pre-purchase damp survey?
Damp is a common issue and affects a large number of homes. At the benign end it can be 'something and nothing', perhaps a few spots of mould or a stain on the ceiling due to a slipped roof tile. However, at the other end of the scale, damp can cause real damage to a house; rotting structural timbers, perishing plaster and sometimes making selling a house difficult, as potential buyers and mortgage lenders are put off.
A damp survey is usually asked for because a previous survey, by a valuer or building surveyor has picked something up which he wants investigating further – often by a qualified damp and timber specialist like us.
Sometimes a damp report is merely asked for as a precaution; there may be no suspected problem, but the valuer or surveyor wants to double check, in order to protect his client from a nasty wet surprise later down the line! Often a damp and timber report will be required at the same time.
Here our Technical Director Bryan Hindle explains what a damp survey is, the process, and what a damp report is likely to contain – after all, he's been conducting them for over 30 years, so he's done a few!
After arranging access with the vendor, the damp surveyor will arrive and after a brief introduction, get straight to work.
This will first involve a walk around the outside of the property to establish the construction details; are the walls solid, cavity or rubble filled, and is there a damp course present?
What's the lie of the land like? Sloping? How high in relation to the internal floors and such? What is the design of the house like; features which may need regular maintenance and could allow damp to occur if ignored; valley gutters; copings at verges, rainwater pipes; surface water drains; other walls intersecting the house, like boundary wall, retaining walls.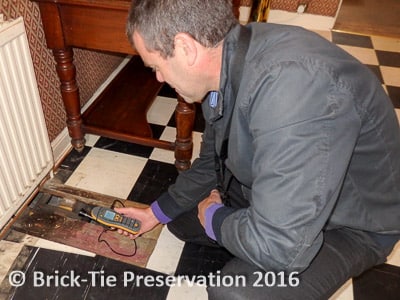 Then, he'll look for defects: What's the pointing like? Render? Is it cracked, hollow (de-bonded), in contact with the ground or bridging the damp course (if there is one)? What about the gutters and down-pipes? Is the DPC bridged? Are there vents or ventilation cowls for the kitchen and bathroom extractors? Is the stone or brick porous? Are there bushes or ivy which could block gutters or hide other problems?
If this sounds a lot, it's not an exhaustive list, but gives a flavour of what any experienced and qualified damp surveyor will be considering within minutes of arriving… and then the internal damp survey will start.
Ok, so as you can see, it's a long and thorough process so we won't go into too much more detail, but if you'd like to learn more, read our damp survey article.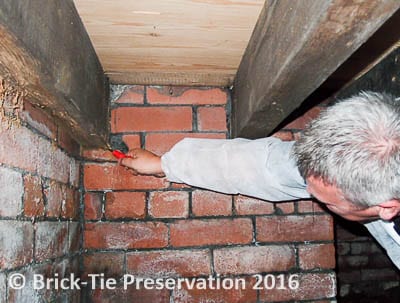 If you're also having a timber survey carried out in conjunction with your damp survey, our specialist will examine your property's structural woodwork for any signs of wet rot, dry rot, or woodworm, paying the same care and attention as with the damp surveying work.
Right from the ground floor (or basement), all the way up to the roof timbers, every accessible area of your building will be inspected and professionally assessed.
The Final Timber and Damp Report
Your damp and timber report will contain clear details on all inspections and tests carried out, any issues detected and the extent and cause of those issues and, recommendations and options for the best solutions available to treat and repair the
damp or timber decay
. Our reports are industry leading and accepted by lenders for mortgage purposes. A Property Care Association 'surveyors competency certificate' is included, so that all concerned can be assured, that the survey has been done to the required standard. If you'd like to speak to one of our damp and timber specialists for some friendly advice, under no-obligation, or to arrange a survey, please call us on
Leeds 265 2752
,
York 566577
or
Sheffield 224 5121
or email us via our
contact
page.
Not thorough enough for you? Then head over to our damp consultancy page for details of the in-depth forensic methods available to you. These state of the art techniques may be required for historic and listed property; disputed findings or where intervention is undesirable and needs to be avoided unless absolutely necessary (Schools, Hospitals, Nursing and care homes etc).
If you are interested in the finer details of  timber and damp surveys we've selected a few news, technical articles and videos for you below….
Is that woodworm active? The answer's in Yorkshire
Is that woodworm active? Our boss Bryan Hindle gives you hints and tips to answer this like a pro… Continue reading
What the hell do these moisture meter readings actually mean? or, Have I got rising damp or not?
Electrical Moisture meters for damp diagnosis – oh yes. A thing that raises an eyebrow amongst some independent surveyors is the way we so called 'specialists' seem happy to diagnose rising damp, or damp of any kind, using nothing more than our eyes and a conductivity moisture meter. "Ha; I can get a reading … Continue reading