Timber treatment and timber repair specialists, Leeds and throughout Yorkshire
One of the unfortunate side-effects of damp problems is that wood in your property can become compromised by wet rot, dry rot, or unwanted pests in the form of woodworm – and if this is the case, timber treatment, timber repair or replacement may be required.
Pretty much any property can be susceptible to these types of timber damage, as wood is such a commonly used building material – from door and window frames, to supporting joists, roof structures and partition walls.
Here at Brick Tie Preservation, our leading and highly qualified timber experts will ensure that your timber repairs are undertaken with the least amount of disruption and in the most cost-effective way possible – with no compromise on our very high standards.
Woodworm and Wood Rot Repair
In most cases, we can take care of your timber repairs without the need to remove and replace existing timbers – a comprehensive survey will be carried out in the first instance in order to assess the extent of the woodworm or wood rot, so a bespoke recommendation can be made.
Our timber treatment specialists use a variety of materials and techniques to repair timber damage to:
The type of treatment and repair will depend on the cause  and level of damage, but some of the solutions we offer include:
Specialist Chemical Timber Treatments
The treatments can minimise replacement and stop decay in its tracks. These timber treatments include: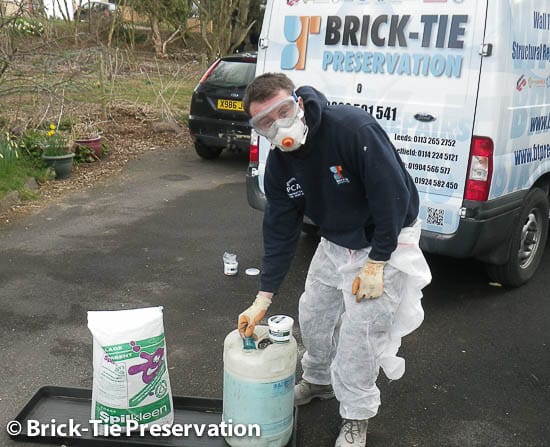 Avoiding Chemical Applications Where Possible
Our survey team know timber and they know infestation – Our standard approach is to avoid chemical application where possible and identify and rectify moisture sources, for best control of timber decay.
However, a deep understanding of the safest and most effective chemical products reinforces treatment when needed. This allows us to guarantee eradication, when this is needed.
It is also important that the type of replacement timber matches any proposed treatment – for example; Scots Pine Pinus Sylvestris is a perishable timber, which can be easily treated against fungal attack because the vulnerable sapwood is permeable to timber treatments.
Sitka Spruce Picea Sitchensis on the other hand is also prone to wet rot, however, it is very resistant to the penetration of fungicides and insecticides, so should never be used in high risk situations. With the most highly qualified damp and timber experts in the whole of Yorkshire, our timber treatment and woodworm and wood rot repair services are available to domestic and commercial clients in Leeds, York, Sheffield, Harrogate, Selby, Bradford and throughout the county – please call our friendly and knowledgeable team on
Leeds 265 2752
,
York 566577
or
Sheffield 224 5121
or email us via our
contact
page.
Where large section timbers are involved, we are Yorkshire's only specialist with advanced micro-drilling equipment – see below:
Micro-drilling construction timbers. How and why it works.
Wet Rot. Dry Rot, beetle infestations.  All real problems in construction timbers.  In most cases diagnosis and estimation of the extent of the problem is easy; a torch and a screwdriver being all the tools needed, by any half-decent timber infestation surveyor. However, when large section timbers, valuable historic members or restricted access is concerned, … Continue reading
Dry Rot treatment Sheffield South Yorkshire
Dry Rot treatment Sheffield South Yorkshire It's an ancient beast Dry Rot… A fungus, which was decaying wood in many more places than Sheffield and south Yorkshire, even before the industrial revolution. Of course there was no treatment then, it was just a case of ripping out the wood and starting again. Over the past … Continue reading
Brick-Tie pick up another award via The Property Care Association
A double win for Brick-Tie at the annual Property Care Association 'Good Practice' awards…. Continue reading