Masonry Specialists for Commercial Projects
Masonry specialists, Brick Tie Preservation is a Helifix and Cintec approved contractor with vast experience in the repair and strengthening of masonry on commercial projects. Customers include facilities managers, The Department of Justice, various church diocese, commercial chartered surveyors, structural and civil engineers, architects and maintenance contractors.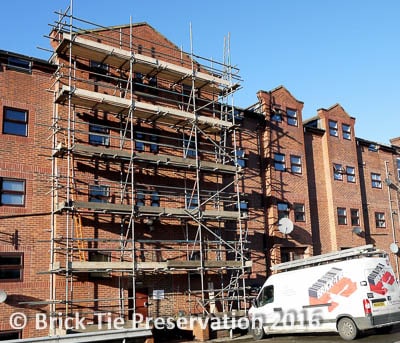 Our credentials, qualifications, insurance protection and health & safety compliance satisfies even the most rigorous of supply chain demands.
Over the years, we've worked on a huge variety of different commercial assignments, such as:
Experienced Helifix Engineers
The Helifix 'stress free masonry repair' system is extensively used throughout our work and our surveyors are all Helifix trained and qualified, Helifix engineers.
Our in-depth knowledge of the use of Helical reinforcement is of real benefit to our commercial clients and we're often called in to support structural engineers and building surveyors in the investigation and planning of remedial solutions for cracked walls and bulging masonry.
Stitching tie systems are used on coping stones and kneeler features, where the as-built condition is suspect. In depth inspection to clarify the defects and resolve them is our speciality too. All of our tie systems are tested and a robust quality management system ensures compliance with required standards. We can be found on the Chas register.
Common, commercial masonry problems
Cracking caused by moisture and heat/cold cycles is common, particularly on post war commercial buildings. We can help in identifying this problem and providing a cost effective solution.
This may include new in-situ expansion joints, repair, re-tying or resealing of existing joints or, where necessary, reinforcement work, to strengthen areas and mitigate further cracking.
Displaced quoins at corners of modern buildings are one of the most common results of materials expansion.
Our teams regularly address this type of problem, with our thorough repair approach ensuring no recurrence of movement – the process looks like this: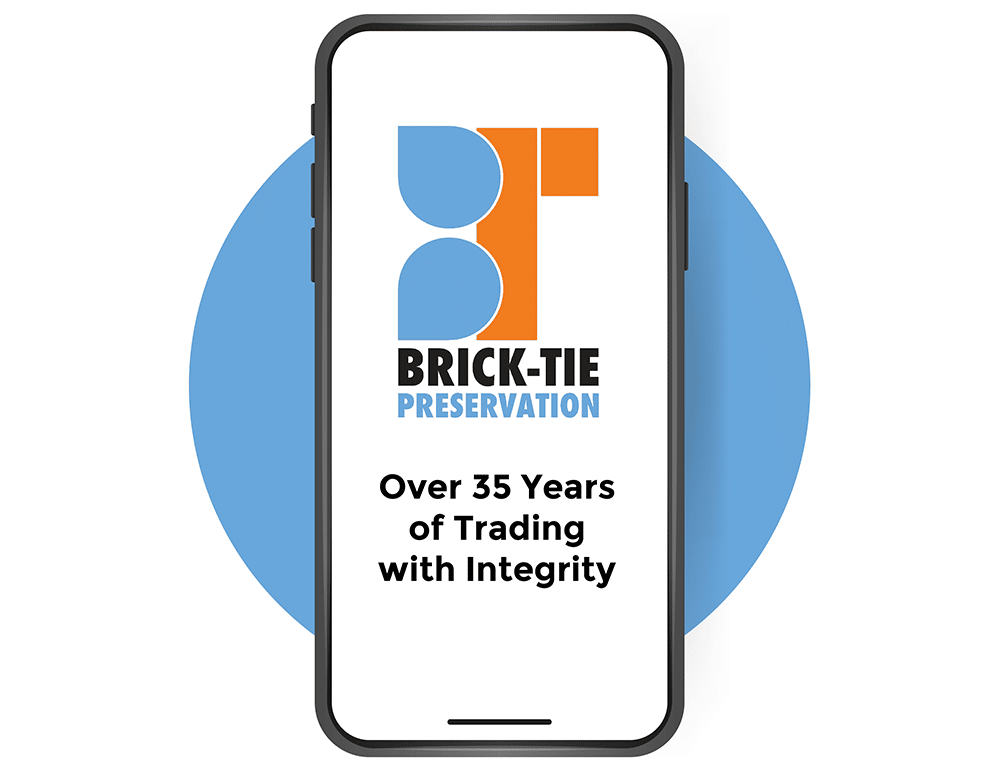 Need advice or want to book a survey?
If you have a question on our building preservation services, need advice on a structural issue or wish to book a survey, call our friendly team free on
Leeds 265 2752
,
York 566577
or
Sheffield 224 5121
or email us via our
contact
page.  and we'll be happy to help.
Repairs Derived from Dampness Issues
Water ingress arising due to defective cavity trays, blocked/missing weep holes and cracks is solved using a combination of traditional and modern technology. Investigating and identifying problems is our speciality, with our CSRT and CSTDB qualified surveyors using several methods to ensure accuracy, including: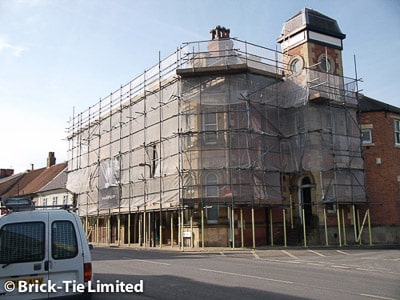 Modular remedial cavity trays are a cost-effective method of solving soffit damage due to water ingress. External pointing using waterproof additives, combined with our StormDry Water Repellent cream system, has been proven to solve penetrating damp problems many times, including residential mills in the exposed Pennine hills, housing developments and office blocks in Leeds, Sheffield, Scarborough and York.
Best practice means making sure the causes of any damage to masonry are identified; with decades of experience in dampness, commercial clients can be assured we will be able to diagnose the underlying cause of the damage and address that effectively.
Contact our masonry repair specialists
Commercial Masonry Repair & Strengthening Gallery
Still need more information? There are a few links below to useful resources on a wide range of masonry related subjects:
Helifix installer in York for warehouse repair
Lindum construction needed a Helifix installer in York so naturally they turned to us. Lindum are one of the fastest growing and respected contractors in the country, with a great reputation – they do not employ sub-contractors unless high quality and service is guaranteed. The project is the Multi-million pound conversion of the former Bonding Warehouse to turn it into prestigious apartments. Continue reading
Cintec Structural anchors system for historic North Yorkshire Church
It's not often Brick-Tie are called on to install only 2 wall ties… However, these were no ordinary wall ties, they are Cintec Structural Anchors and, the property, which required them, is rather special. Continue reading
A presentation to Yorkshire's RICS members on structural repairs and wall tie replacement.
Last Wednesday night I was a guest at the offices of Drivers Jonas Deloitte in the centre of Leeds. The RICS are very keen on continuing professional development and local training coordinator Adam Osborne MRICS, asked me along to bring the members up to speed on specialist structural repairs of buildings and wall tie corrosion. …Continue reading
Video: Half tonne tension on one Cintec wall tie? here's how...