Woodworm treatment throughout Yorkshire
When deciding on the correct woodworm treatment needed for your home, various factors need to be considered, such as:
Our surveyors will assess of all of these factors to ensure that any recommended treatment is genuinely required, is safe for your family and is as cost-effective as possible. A series of investigations will be conducted and we'll draw on our knowledge and experience to find the very best solution to your problem.
Treating woodworm effectively
Woodworm is really a beetle, and in its larval stage, it causes damage as it feeds on the wood in your property. Of course, it really evolved in the forest and has usually made a mistake by infesting your roof or floor timbers – but that's little consolation when you're struck by these unwanted pests!
One of the telltale signs of woodworm are the holes left behind in the wood when the woodworm adult emerges to mate and lay eggs. Common Furniture Beetle and some other types of woodworm can eventually cause significant structural damage to property, particularly if the infested timbers are damp.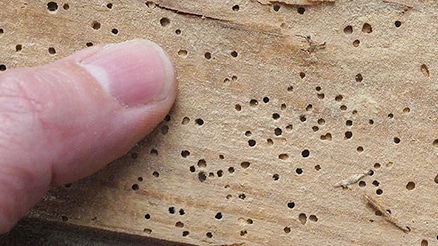 Our technicians are certificated in the safe and correct application of modern insecticides which kill the insects and stop re-infestation. We survey for woodworm all over Yorkshire and have successfully treated woodworm in hundreds of Yorkshire's houses, including many listed buildings and period properties.
There are quite a few beetles which attack building timbers, including Death Watch Beetle, Powder Post Beetle and several others; we know them all like old friends and can specify the best treatment in each case. Often 'woodworm' is associated with decay like wet rot or dry roto a full and detailed timber survey is essential, so that all factors are taken into consideration and the problem permanently resolved.
Our CSRT qualifications and Property Care Association membership are your assurance that we can recognise these problems and recommend safe and effective treatment – we guarantee treatment for 20 years and have been doing this for over 26 years so far.
The main types of treatment for woodworm are:
Domestic woodworm surveys are available for a low cost fee (worth every penny!), with larger and more complex surveys like churches and commercial buildings, perhaps using micro-drilling surveying techniques, available subject to negotiation. Our local timber and damp surveyors cover Leeds, Bradford, Ripon, York, Wakefield, Sheffield, Harrogate, Selby, Doncaster and any other Yorkshire area – we're just a phone call away, so why not call us for some no-obligation advice on
Leeds 265 2752
,
York 566577
or
Sheffield 224 5121
or email us via our
contact
page.