Everyone is delighted about our award as we become the Property Care Association Contractor of the year for a second time!
Managing Director Katrina Jackson attended the ceremony. Sponsored by leading national specialist suppliers Safeguard Europe,  it is based on a detailed quality matrix, which is audited by PCA technical experts. The company with the highest score in the whole year of audits wins.  Therefore, the best of the best were present, all hoping their name would be heard. Of course, Katrina was thrilled, when PCA company secretary Sue Uttridge, read-out a string of reasons why the awards panel chose the winner, followed by our name!
Brick-Tie Preservation come out on top.
Brick-Tie scored an unprecedented 98%. Assessor Mike Bromley, was hugely impressed by our team. He mentioned the great engagement of our staff, our exemplary quality control, and health and safety management, and of course recognized our technical expertise. Our adherence to best practice in all we do was clearly demonstrated.
The Property Care Association has a membership which includes national and regional damp-proofing and timber treatment companies. These range from huge multi-million pound firms down to micro-businesses. This is the second time we have won it, but our company is more than double the size it was when we last won in 2014. Maintaining and improving standards is always tough, and takes lots of work. It's even tougher when a company is expanding. Growth brings it's own challenges, as fresh staff arrive and work and customer numbers increase. So the award is particularly welcome, showing we can manage change as we improve standards.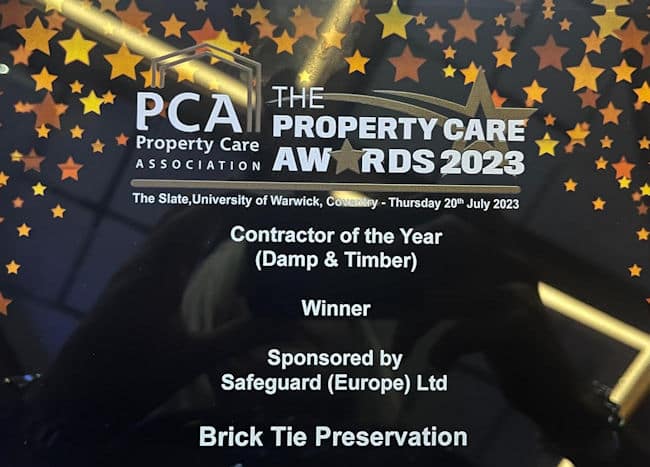 PCA contractor of the year – right here in Yorkshire
What does the award mean for our clients and those professionals who refer us to others? Well of course 'the proof is in the pudding' and we have really proven our worth week-in, week-out, for 38 years. The award is no surprise to many of them. But what it does is recognize the quality of our people and service, even when scrutinised and compared to the best in the industry. There are many fellow PCA members whom we admire too, and to win this award in the same year that these fine firms were audited is really satisfying. Our clients and industry contacts can rest assured, we really are the best in the business! Thank you PCA and Safeguard Europe.
We wont stop this drive for improvement. Our recent ownership change from a private company to an employee ownership model will continue to produce positive staff engagement.
Katrina and her team are waiting to help you with any damp, timber, wall tie corrosion, or structural repair issue. Please contact us for advice, surveys, or tenders across Yorkshire – contact page.