Wall tie replacement specialists, Leeds and throughout Yorkshire
We've been installing remedial cavity wall ties due to cavity wall tie corrosion for nearly 30 years. Our wall tie replacement services cover the entire Yorkshire area and all types of buildings. We work with homeowners, housing associations, local authorities and investors.
Actually cavity wall tie replacement is not complicated and any competent and diligent tradesman can complete a domestic wall tie corrosion job… so why use a specialist?
Well, our work involves having in-depth knowledge of the correct standards, such as building regulations, types of wall ties for the wall in question, and of course all the drills, machines and testing equipment needed to make sure everything is perfect.
Things to consider when choosing a wall tie replacement technician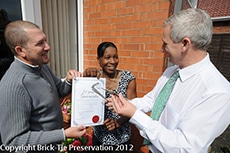 In addition to the above, there are other things to think about when selecting the technician for the job. There's safe access of course, scaffolding and such, plus insurance and guarantees.
We cater for all of these essential elements of wall tie service, and we're much better trained and work more efficiently than a general contractor, who may never have done a wall tie replacement contract before.
Most importantly, there's the fact that the completed wall tie work is hidden and cannot be easily checked by clients; this means that you're taking the contractor at his word when he issues a guarantee and says the wall tie job's done right.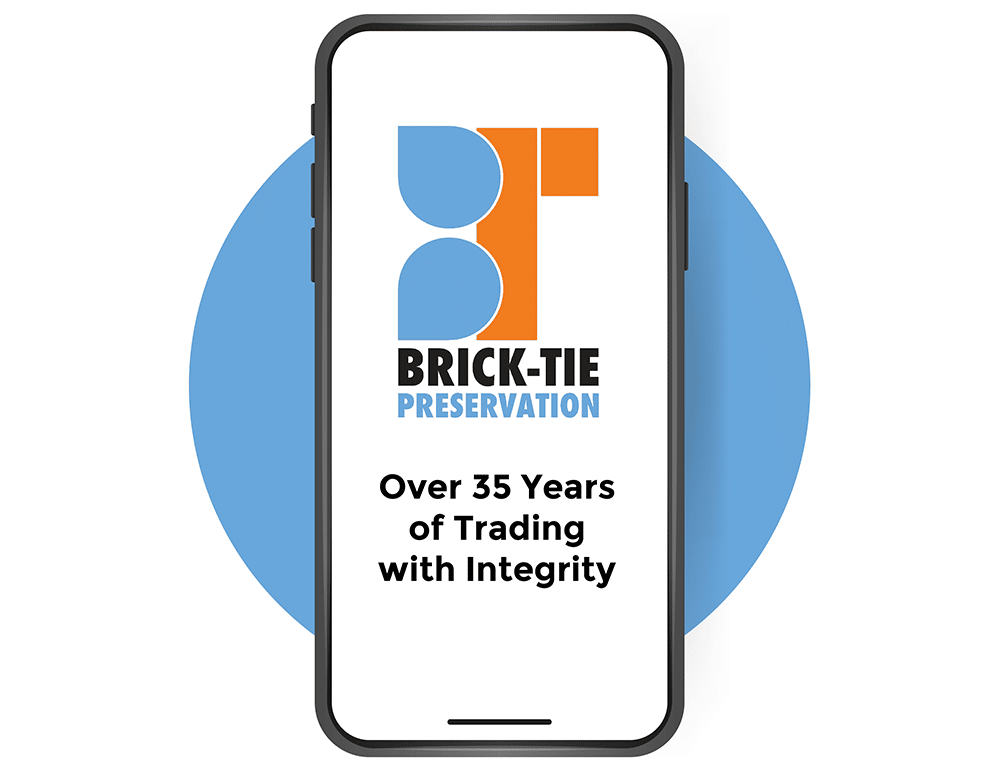 Need advice or want to book a survey?
If you have a question on our building preservation services, need advice on a structural issue or wish to book a survey, call our friendly team free on
Leeds 265 2752
,
York 566577
or
Sheffield 224 5121
or email us via our
contact
page and we'll be happy to help.
Brick Tie Preservation for complete peace of mind
Our wall tie technicians are not sub-contracted – they're full time employees and they care about your wall ties and our reputation! Every single walltie corrosion contract is checked with accurate, independently calibrated testing rigs, so we and you know that the wall ties are performing correctly. We take digital photos of these tests and record everything for our own quality management and your protection.
Our Yorkshire-based wall tie technicians know what they're doing and have the City & guilds NVQ Level 2 in Wall Tie Replacement to prove it. Old corroded wall ties are found and treated correctly, so if external leaf cracking is an issue, it won't be, once we're finished!
We guarantee all our cavity wall tie installations for 25 years, with a GPI guarantee scheme available too, which is accepted by banks and all other mortgage and equity release providers. 
Our ConstructionLine and TrustMark accreditations apply directly to the wall tie replacement section of our business – we've been thoroughly checked out for domestic and commercial wall tie clients, so you know we're not making false promises.
Our wall tie corrosion surveys with a full, written report, and our wall tie replacement services are carried out all over South Yorkshire, North Yorkshire and West Yorkshire too – including Leeds, Sheffield, Harrogate, York, Bradford, Wakefield, Doncaster and Scarborough.
Our range of remedial wall ties suits every situation and includes Helifix Retroties, Cemties, Resities, Bowties, Cintec ties and sockfix too.
Need more information? Call on Leeds 265 2752, York 566577 or Sheffield 224 5121 or email us via our contact page.
Wall Tie Replacement Gallery