Commercial Wall Tie Specialists
Yorkshire's Premier Wall Tie Specialists
The 'Brick-Tie' in our company name says it all: we've been specialising in wall ties for 30 years and are confident that we're the most experienced commercial wall tie specialists in the north of England.
Commercial wall tie surveys and brick tie work differs from domestic situations for a variety of reasons. Many commercial buildings are multi-story, quite literally adding more layers of complexity. They require specific knowledge of commercial building design and construction – a requirement we easily fulfil. For domestic and residential wall tie surveys please transfer to this section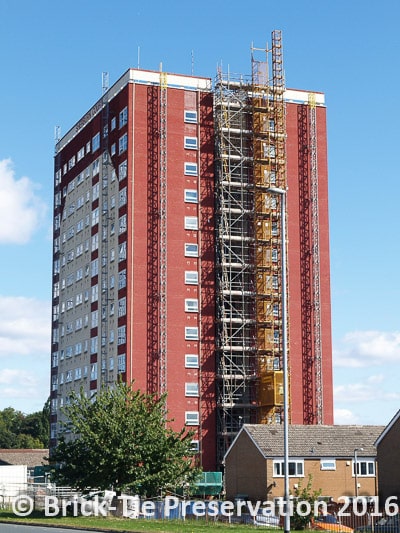 Our surveyors are able to offer comprehensive corrosion surveys, as well as mapping wall tie density, orientation and tie embedment too.
Surveys can be carried out from cherry pickers, scaffold or even internally in some situations. We know the relevant standards and statutory obligations in-depth. We will be able to provide clear and sound advice in just about any situation.
We've faced many challenges over our many years of working with commercial wall tie clients, such as:
This has given us plenty of first hand experience in dealing with all kinds of commercial projects. For example, we introduced 'special precautions' to reduce contamination of cavity wall insulation during wall tie work.
We did this a full five years before the advice to do this was incorporated into the BRE digests.
Our own research had already identified the risk of dampness, which remedial wall tie installation could cause. We proof tested remedial measures and implemented them as part of our own quality control standards. When BRE incorporated identical independently researched advice into official guidance, this validated our approach. It's one reason why we are Yorkshire expert commercial wall tie specialists.
Read on, or call us for further details on Leeds 265 2752, York 566577 or Sheffield 224 5121 or email us via our contact page.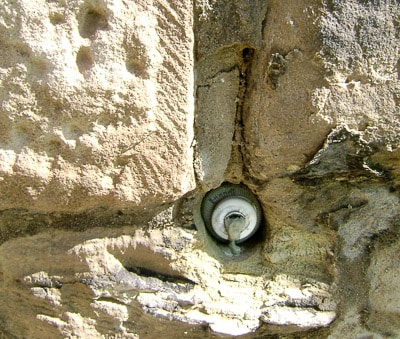 We've seen lots of past remedial wall tie projects, where a combination of blind application of the 'specified tie' or, a failure to train installers has wasted huge sums. We know this because we regularly carry out wall tie installations, where previous remedial works have been done incorrectly. Sometimes the defects are shocking; loose ties, untreated rusting ties and contaminated cavities. Our quality control is exemplary and is designed to find and avoid these defects from the start.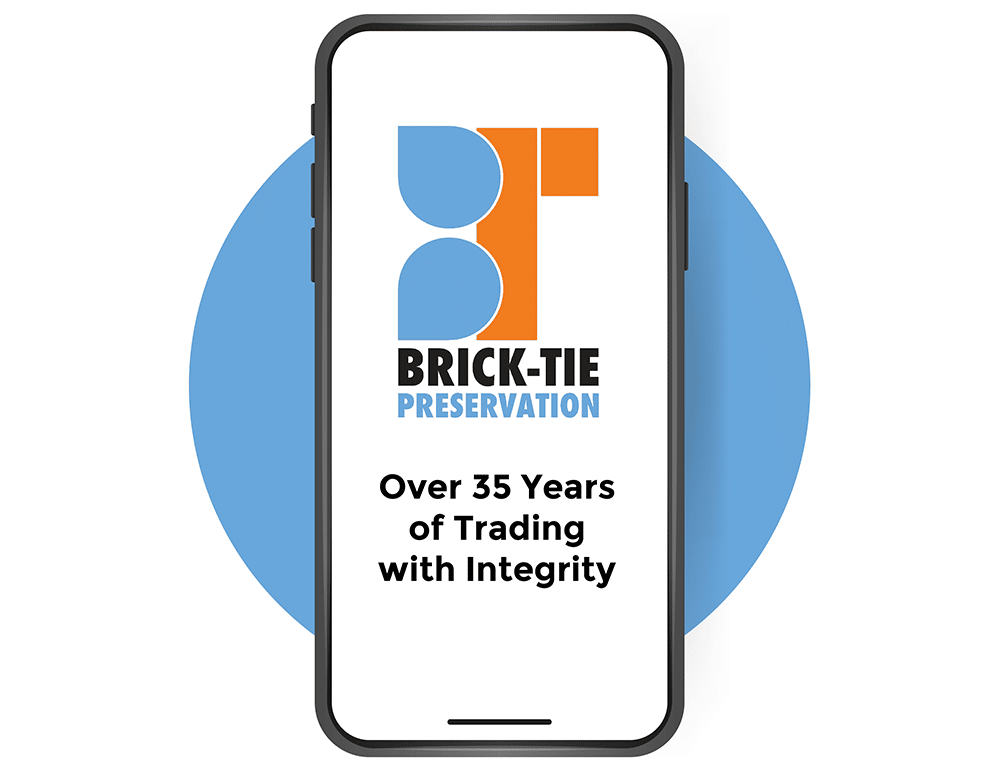 Need advice or want to book a survey?
If you have a question on our building preservation services, need advice on a structural issue or wish to book a survey, call our friendly team free on
Leeds 265 2752
,
York 566577
or
Sheffield 224 5121
or email us via our
contact
page.  and we'll be happy to help.
Test, test and test again
All our installation teams carry a regularly calibrated tension rig. Each rig has a range of pull-out adaptors for all of the ties we install. Detailed written records and digital images of gauge readings are taken for every project. Our technicians test, test and test again – whether or not the clients asks for this. It's one reason why we are the 'go to' commercial wall tie specialists in Yorkshire.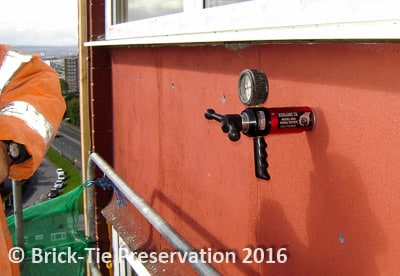 Types of wall tie system; used and approved
We're Helifix approved installers. The entire range of Helifix wall ties and lateral restraints are used by us every month. This means we are well practiced and know which wall tie works best in what type of building. 
Only experience brings this level of expertise. Resities, Bowties, CemTies, SockFix and RetroTies are installed. 
We know when each is the right wall tie for the job and, when it's not.
We are Cintec approved too, having being installing these remarkable expanding sock anchors for well over 20 years.
Generic wall ties of the following types are employed to suit site performance targets and base material characteristics:
If the project is simply a survey prior to transfer of a lease, or refurbishment and modification, our written reports do the job. Often reports include supporting digital images, helping our clients get things in context at an early stage. We can produce a credible and robust wall tie solution, whilst also value engineering the specification to meet cost restrictions. Pre-commencement testing and evaluation is available too, for a guaranteed smooth and efficient project.
Clients using our commercial wall tie specialists service include: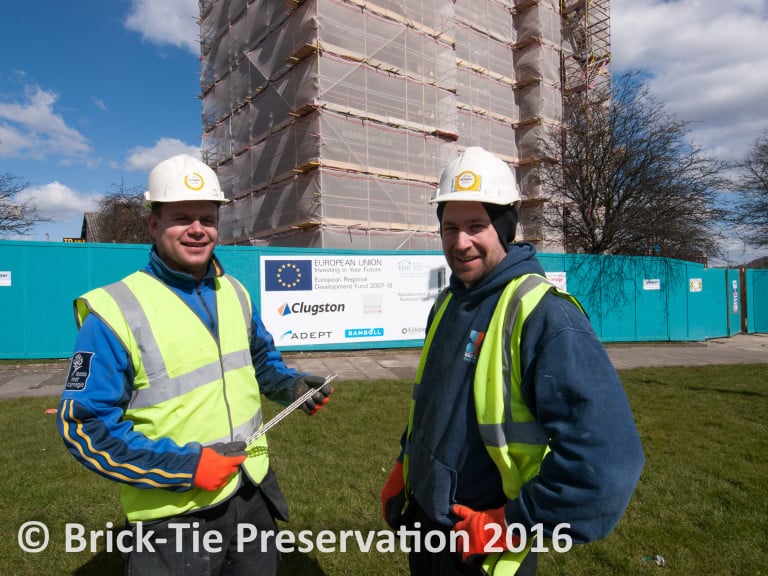 CDM 2015 and client duties on employing a contractor
Successful projects rely on having the best possible team behind you. We understand that you need to assess any potential partners at the outset. That's why we're always happy to talk through your project and offer our thoughts and advice for free. The CDM construction regulations 2015: require all clients and other duty holders, to ensure contractors are competent and above all, can work safely. The test as far as the health and safety executive is concerned is:
Competence – noun: Having suitable or sufficient skill, knowledge, experience, etc., for the task; properly qualified.
That's Brick-Tie!
A culture of positive health and safety
We are committed to the promotion of a positive health and safety culture throughout our firm. All projects are risk assessed and a thorough safe system of work agreed before commencement. Ongoing safety and health monitoring is carried out too and we strive to meet or exceed our commercial clients own health and safety rules wherever we can. As commercial wall tie specialists we work in a hazardous environment. Working at height on busy sites in all weathers. We use powerful electric tools, some chemical applications and of course, highly alkaline cement and lime. Silica dust is a worrisome hazard in construction, but we work hard to avoid and suppress dust as much as possible.
Our directors leads health and safety from the top, having both NEBOSH, IOSH and construction certification. We are CHAS registered, Construction Line registered too. Everyone in the firm is involved in promoting our culture. Despite being a small firm we have our own in-house qualified face2fit mask face fit tester, manual handling trainer and a technicians health and safety representative (IOSH managing safely qualified). All our training and staff development works towards a happy and efficient business.
Our compliance is also audited by our independent consultants Stallard Kane. Having won a silver award for our compliance in 2015, we are delighted to announce that in January 2016 we were elevated to 'Gold' standard for health and safety compliance. This is a level of compliance normally attained by much bigger companies, who have more financial resources available for health and safety. It is testament to the extra effort we put in to keep our customers, contractors, visitors and each other, safe and well. Since then we have once more attained Gold compliance status in our December 2016,2017, 2018, 2019 and 2020 audits.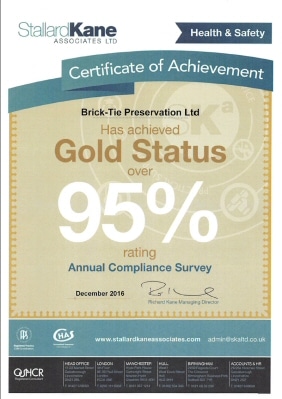 Commercial Wall Ties Gallery
Wall Tie Corrosion in post war housing and Commercial Buildings
For some time wall tie corrosion has tended to be pigeon-holed as a defect of pre-war housing. It's common in 1930s semis and it's true; my wall tie specialist company's bread and butter is pre-war dwellings. However, over the past ten years I've noticed a steady drift in our work, which these days includes more and more post war commercial properties. Continue reading
Bricklayers are not remedial wall tie technicians
This past week I was involved in a remedial wall tie installation on a prestigious brand new building, which is not yet complete. Surprisingly the need for wall tie installation on new and fairly new buildings is more common than many would expect. Reasons for this include: new wall ties missed during the bricklaying; … Continue reading
Which Wall Tie is Best? (three parts to all)
Remedial Wall ties for cavity wall tie replacement – which wall tie is best? Ever since the mid 80's when wall tie corrosion first became widespread, people have asked; which wall tie is best? However, there really is no definitive answer for this. It's like asking which car is best; is that a 4X4, sports coupé … Continue reading