Surveyors looking for knowledge come to Brick-Tie Preservation.
All professionals need to keep their skills sharp, just like a tradesman's tools they can dull with use. Experience is no substitute for knowledge. Techniques change, new defects develop – it's a constantly changing world. We attend regular training courses to keep ourselves up to date. This, combined with our day to day specialist work, means we can confidently offer CPD for surveyors. In fact we offer
Continuing Professional Development
presentations and courses for other built environment professionals all year round.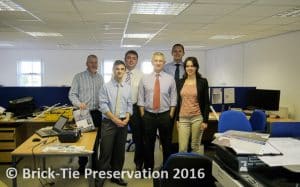 The above video was shot on one of our larger CPD for surveyors events. It is worth watching because you will see how professional and well attended our CPD events are. Better still, some of those who attended were kind enougth to speak on camera (surveyors are not usually so willing to have a lens pushed in their faces; thank you chaps).
CPD for Surveyors by Surveyors
Well know expert Building Surveyor and consummate trainer of surveyors Phil Parnham, speaks about the presentations we gave. Local RICS surveyor David Grindrod is a well respected and successful surveyor, who has come across our survey reports and work for years – he knows us well. Thank you David. Property Care Association
CEO Stephen Hodgson
was in attendance too. You'll see that he spoke to the surveyors about "dampness in buildings". Nobody knows better than Steve and his talk was very well received. Steve backs his PCA members and we've known each other professionally and as friends for years – thank you Steve. Two other presentations were given by our survey team. One entitled "
Structural repairs and wall tie corrosion
". The other being "
Basement Waterproofing,
a guide to BS8102″. The featured CPD for surveyors event was a 'posh one', which is why we had cameras there. In fact, most of our week to week events are small affairs. usually we visit Structural Engineers, Surveyors and Architects in their own premises. Perhaps with one presentation over an extended lunch. We also complete CPD for surveyors via small one-off room rentals in hotels and such. However, we love a big event too, so if any built environment professionals like the idea of joining us for CPD – call us to book a place on the list. We'll get in touch in advance of the next event. 
Leeds 265 2752 York 566577 or Sheffield 224 5121 or email us  via our contact page
Here are one or two links showing some of the smaller CPD presentations we deliver and, some we attend for our own benefit and that of our clients.
Our Sheffield Damp and Timber survey CPD event