Dry Rot Treatment Services
Dry Rot Treatment, Leeds and Yorkshire-wide
With a strong reputation gained over nearly 3 decades of providing high quality and cost-effective dry rot treatment, the friendly, qualified team at Brick Tie Preservation are your local damp, timber and rot experts.
Fungus is everywhere, as spores in the air we breathe and in soil: most plants depend on it to break down nutrients they need to flourish.
Dry Rot is one such fungus and plays an important part in decaying dead wood lying around in the forests – but of course it's not that fussy what timber it attacks, as long as it has the right conditions:
We've treated and successfully eradicated scores of infections by this invasive and tenacious rot from many properties in Leeds, Bradford, York and across Yorkshire. However, we've also lost count of the number of times we've been asked to eradicate dry rot, only to find on arrival that the decay in question wasn't dry rot at all!
Misdiagnosis is common where this decay is concerned, and without the correct diagnosis, you can't get the right treatment, so it's essential to get advice from a trained and qualified dry rot specialist like us.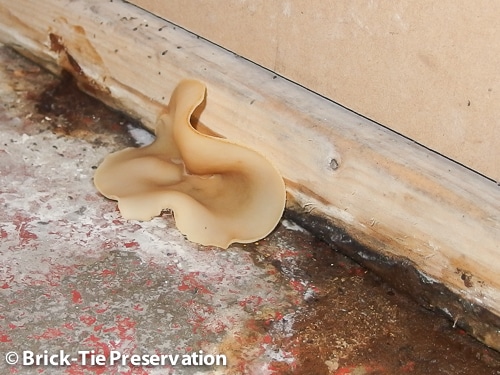 Dry Rot can spread unnoticed – so diagnosis and treatment is essential
Almost all decay in timber is caused by one of the more common wet rot species, which tend to be less fussy about their growing requirements; in effect, if wood is wet, more wet rots will attack the timber than dry rot.
However, dry rot's notoriety is well deserved, because when it does strike, the impact can be quite spectacular and the extensive fungal growth, with strands and sheets of fungus seeming to devour the wood, engenders respect and sometimes even wonder!
Unlike wet rot, its dry counterpart can spread away from the initial source of moisture, spreading by invasive growth and heavy spore distribution. As a result, secondary outbreaks, remote from the initial one are quite common – so they all need effective treatment to ensure it doesn't come back!
Our Dry Rot surveys ensure we treat ALL affected areas!
Treatment is quite straightforward provided you engage with a Property Care Association qualified technician (like ours) – but the survey is the first critical step.
The initial inspection must be 100% thorough, otherwise it is easy to underestimate the extent of infection and customers can find themselves with unexpected additional costs after the treatment process has started: this is what we at Brick-Tie Preservation want to avoid!
We have the qualifications (CSRT) and experience needed to properly investigate the extent of your dry rot problem and specify a tailor made solution for you, with accurate costing you can rely on. We've seen hundreds of outbreaks of dry rot around Yorkshire, and have left a stream of happy customers in our wake – so contact us for a detailed and professional survey, and cost-effective and reliable treatment.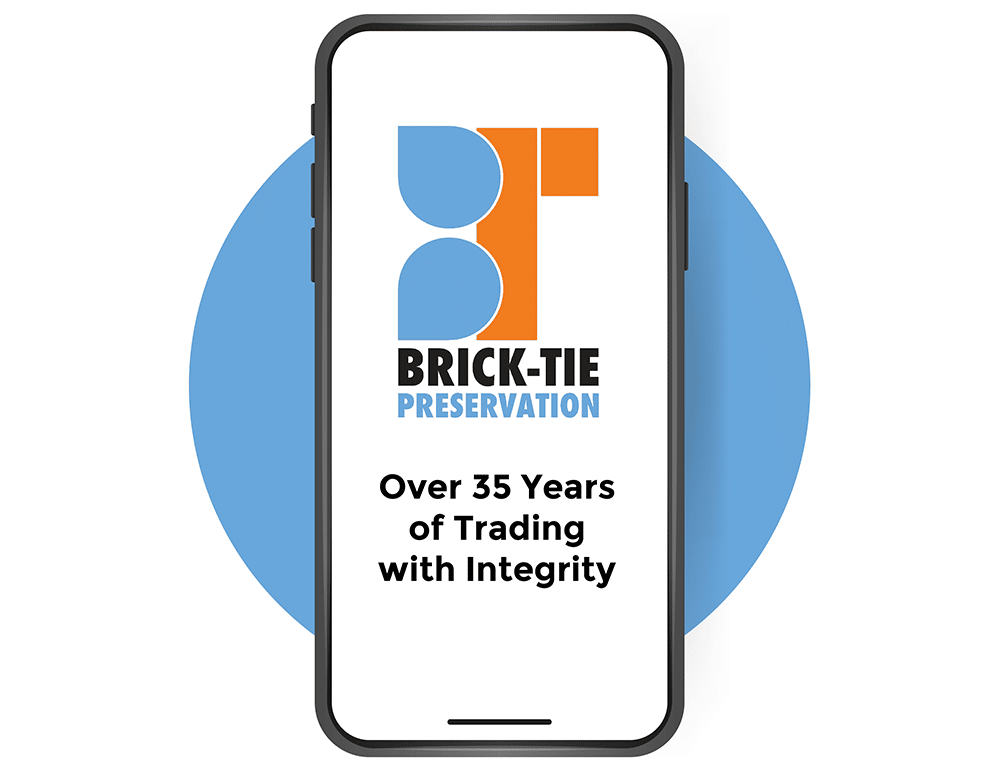 Need advice or want to book a survey?
If you have a question on our building preservation services, need advice on a structural issue or wish to book a survey, call our friendly team free on
0113 2652752
and we'll be happy to help.